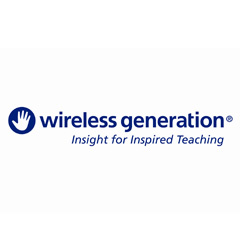 So that's what they wanted Joel Klein for!
News Corp. dropped $360 million to own 90 percent of Brooklyn-based education software company Wireless Generation last month, reports the Wall Street Journal. One of Wireless Generation's clients is New York City, whose Department of Education, until November 9, was run by Joel Klein. He joined team News Corp. the same day. (One assumes "last month" means after that date, but still…)
Wireless Generation designs classroom assessment tools to help teachers adjust their curricula. The website copy is like a pamphlet from the cult of synergy. It describes "assessment results securely synced from a handheld to our online platform and immediately available in a range of dynamic reports," so teachers can "determine which resources and strategies make students successful."
A vocal education refom advocate, News Corp. chief Rupert Murdoch has suggested that schools should be run more like corporations. From an October speech at The Media Institute:
No business leader can be surprised with the results you get when providers enjoy a near-monopoly. […] We have zero incentive for adapting new technologies that could help learning inside and outside the classroom – and we have huge disincentives if this new technology means replacing a teacher. On top of it all, we have chancellors, superintendants and principals who can't hire and fire based on performance.