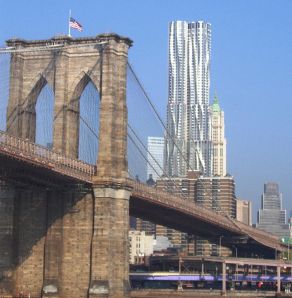 We may have called Frank Gehry's 8 Spruce Street, née the Beekman Tower, the best building of the year, but Real Deal architecture critic James Gardner hates the building inside and out.
Just as a peacock, under its feathers, is no different from a turkey, so 8 Spruce Street — shorn of its trappings, and notwithstanding a slight asymmetry in the massing — is not greatly different from most other high-rises in the city. There are many of the same old rigid right angles to it, lurking under all the fuss and feathers of its shiny cladding.
Gardner has a point, that there is little beyond the building's facade to recommend it, that inside it probably is just another over-priced luxury building. But what a facade that is! Nothing has had such a remarkable impact on the downtown skyline–if not the skyline as a whole–since the World Trade Center was built four decades ago.
As for those swishing metal curves, they may indeed be little more than overwrought window dressing, but as Gehry enthused to The Observer last month, they are not purposeless ornamentation. The undulating facade does actually serve a functional purpose in addition to an aesthetic one, creating distinctive bay windows with unique views of the city. By most accounts, there is nothing else like them in the city.
And yet Gardner closes on a point that cannot be ignored:
New York City is where the world's most daring architects come to complete their dullest projects. Indignant community boards and the various, ever-nervous municipal entities conspire with unimaginative developers to clip the wings of the architect's inspiration, all the while deriving such satisfaction as they can from the architect's fame.

Norman Foster, Herzog & de Meuron, Shigeru Ban and all too many other out-of-towers can attest to that sinking feeling that anything too striking or out of the ordinary may fly in another city or in another country, but that here in New York it never stood a chance.
Could 8 Spruce have been better? Might it not have its notorious flat back? Could it have all together defied gravity in some new and unexpected way? Certainly, for Gehry has done better work not only in Bilbao but also Boston and even–gasp–Cleveland. But 8 Spruce is still one of the best buildings the city has seen in a generation, a daring addition for which we should be grateful. The same goes for the supposedly dull work of Foster, et,al.
We may not get to enjoy their most ethereal works, but theirs is still a cut well above what New Yorkers had become accustomed to for decades. Their arrival is something to be celebrated, not lamented. Otherwise, we may never have it this good again.