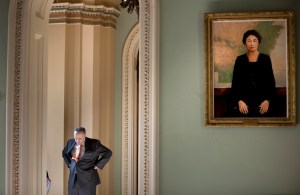 On Nov. 15, Senator Chuck Schumer received a promotion.
His job title didn't officially change–Mr. Schumer remains the No. 3 Democrat in the Senate–but, with Republicans suddenly closing in on control of the chamber, Harry Reid asked his old friend to steer the party back into the public's good graces.
"We must integrate our legislative- and message-crafting functions into a central, coordinated nucleus managing policy, press, and politics," Mr. Reid wrote to his colleagues. "I have asked Sen. Schumer, whose communications abilities and tactical skills we all greatly respect, to lead this effort as chairman of the new office."
To right the ship, Mr. Schumer will combine two existing organizations–the Democratic Policy Committee and the Senate Democratic Communications Center–into a single shop designed to do what he does best: pick good fights, and get good press.
The party is hoping for something of a repeat performance.
In 2006, as head of the Democratic Senatorial Campaign Committee, Mr. Schumer helped beat six Republican incumbents to deliver a Democratic majority. Two years later, he ran up the score, swinging eight more seats and installing a filibuster-proof 60-seat majority.
But those days were fleeting. The White House pushed its health care plan–against Mr. Schumer's advice–and soon, Scott Brown was driving a truck through his Senate supermajority.
This time, Mr. Schumer will be unencumbered by the minutiae of the DSCC, freeing him to operate at a higher altitude, where he'll set the party line and try to build the kind of broad-based support he has back home, where Mr. Schumer bested his colleagues with 66 percent of the vote in this decidedly un-Democratic year.
The new job is off to an inauspicious start.
In the first big fight of the post-election session, Mr. Schumer called for a million-dollar limit on extending the Bush tax cuts–a convenient rhetorical dividing line that would have pushed Republicans onto the side of millionaires.
But the White House didn't listen, hammering out a compromise with Senate Republicans instead.