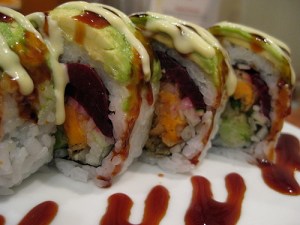 New York and San Francisco-based Foodspotting, the iPhone app for taking pictures of food and geotagging them for other users to find, hit 500,000 downloads today just as New York's Foursquare launched a similar feature with photos and comments.
Foodspotting is a startup from Soraya Darabi, formerly of The New York Times and drop.io, designer Alexa Andrzejewski, and Ted Grubb of the customer service and review site Get Satisfaction. The iPhone app lets users find grub by proximity and also by dish, instead of by restaurant.
Foodspotting will integrate with Foursquare and other social media, founder Andrzejewski has said.
An Android version of the app will drop soon, Darabi said on Twitter today. "Look for Android beta Christmas Eve!" she wrote.
See Robert Scoble's video of Foodspotting's Andrzejewski and Foursquare's Dennis Crowley below.
ajeffries [at] observer.com | @adrjeffries