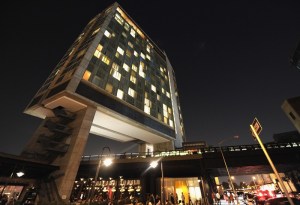 Yesterday we broke the news that downtown was getting its first ice rink, at the appropriately named W Hotel Downtown.
Well, it looks like there will be two rinks south of 14th this season, if not more. Curbed reports that the Standard Hotel is turning its patio into a rink, as well.
The Standard Hotel pulled in its yellow patio furniture for the winter, and you'd better believe that Andre Balazs is not letting that prime space go to waste. After all, he put two nightclubs on the top floor.
Interestingly, this means there will now be two places to ice skate on Washington Street where once there were none. No word yet on whether patrons will be forbidden to drink or wear clothes on the Standard's ice.
The Standard sure is a beauty. Check out the most eye-popping buildings of 2010. >>