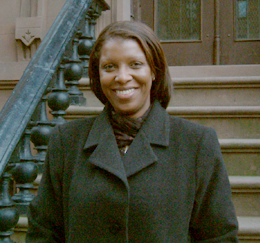 Council member Letitia James was on CNN's "American Morning" today and joined the chorus of elected officials blasting the administration of Mayor Michael Bloomberg for their snow removal efforts.
"It's clear the administration…has failed," James said. "It appears the only streets that are clear are in Manhattan that tourists are enjoying."
She said that the reason for the failed effort to clean up the city's streets was because Deputy Mayor Stephen Goldsmith, the former mayor of Indianapolis whom the administration brought on this year, instituted a centralized snow removal plan that relied less on local community boards and their sanitation garages.
[Note: I have reached out to City Hall about this claim and will update when they respond.]
UPDATED:
Bloomberg spokesman Jason Post says that James has her facts wrong.
"This claim is flatly false. The City's snow response plan is unchanged. Deputy Mayor Goldsmith has consistently said that front line workers need more discretion, not less. "
James also said that cutbacks in the city's Sanitation Department have hurt.
"The mayor is talking about doing more with less," she said. "Obviously when it comes to snow removal that cannot be the case."
Meanwhile, City Council Speaker Christine Quinn announced that the city council planned to hold hearings on the blizzard response on January 10.
"By all accounts, the collective storm response was not anywhere near up to the standards New Yorkers are accustomed to," she said. "This is unacceptable. New Yorkers have serious questions about the City's snow emergency policy and response"
CNN video below: