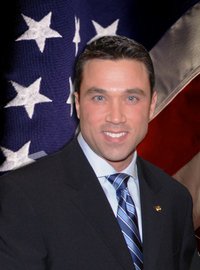 Newly-elected Staten Island congressman Michael Grimm has been angling for a seat on the House Financial Services committee ever since he ousted Democratic incumbent Mike McMahon in November. The better, Grimm has argued, to protect his many constituents who work on Wall Street.
But now the Sunlight Foundation, a group that advocates for openness and transparency in government, is out with a report knocking Grimm for taking the largest percentage of his campaign cash from the financial sector out of any newly appointment members of the committee.
Grimm raised over $222,000 from Wall Street contributors, which amounted to 24 percent of his total money raised.
As the report notes, "The Financial Services Committee has always been a coveted spot for lawmakers facing tough reelection races in expensive districts. These lawmakers are in need of large campaign contributions and the finance sector is the biggest contributing industry of all. Since 1998 the finance sector has contributed nearly $2 billion to federal election campaigns."
Grimm, like some of the other big fundraisers on the committee, spent time on Wall Street, working as a research analyst for Harmonic Research and Robb, Peck, McCooey. But Grimm has also spent time busting Wall Street fraud–prior to starting a career in finance, he worked for the FBI where he went undercover as a hedge fund manager and helped bring down 50 fraudulent traders.
dfreedlander@observer.com
twitter.com/freedlander