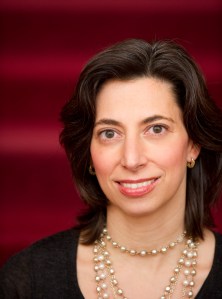 People tell Mia Bongiovanni that she has the best office at the Metropolitan Opera, and it is indeed impressive. It's not large, but it's high up, and on a corner, and with great views: down over Lincoln Center Theater and the new elevated lawn, on one side; on the other, across the main plaza and out to Broadway. To top it off, a few steps from her office door is an interior balcony overlooking the Met's lobby, with a bird's-eye view of the famous starburst chandeliers.
It is symbolic that the Met's media center overlooks the entire house. Here, on the sixth floor, is the jumble of offices and studios responsible for the company's weekly live radio broadcasts, satellite radio channel, subscription audio and video streaming service, house-produced recordings and films, and, last but very much not least, its "Live in HD" movie theater broadcasts, the Met's signature initiative. Ms. Bongiovanni, 42, the company's assistant manager for media, is in charge of making it all happen: digitizing the archives, producing the broadcasts and expanding the Met's reach all over the world.
"I don't think any of us had any idea how successful it would be," she said of the Live in HD program in an interview in her office on Saturday afternoon, during a performance of Don Carlo, the season's first radio broadcast. The climaxes of Ms. Bongiovanni's weeks are invariably these Saturday matinee performances, and she's gotten used to a six-day work schedule.
"It was a big piece of his vision," she said, referring to Peter Gelb, the Met's general manager and her mentor. "We talked early on about building a media bridge out to our audience and that's the charge. How do we reach our audience, without waiting for them to come here? How do we get to them, in every way that they're currently consuming content?"
There are seven assistant managers at the Met, the level of the Met's hierarchy just below Mr. Gelb and James Levine, the music director. When Ms. Bongiovanni came to the Met in 2006, it was as director of media; there was no higher position. That media has been given an assistant manager spot and seen its staff enlarged even during difficult financial times for the company shows its crucial importance at Mr. Gelb's Met.
The attention that the company has given to media is paying off. After starting largely from scratch four years ago, this season a dozen live, high-definition broadcasts will go out to 1,500 theaters in 46 countries; last season, the broadcasts became profitable for the first time, making $8 million for the Met, which has struggled with deficits in its $300 million budget. "It's a big place with a big budget," Ms. Bongiovanni said, "but every little bit helps."
Ms. Bongiovanni grew up in Syracuse and went to Colgate College. She graduated in 1990 and moved to New York to pursue a master's at NYU in the literature of medieval mysticism, aiming toward a career in publishing. But she had grown interested in opera during college, and when she graduated, she saw an ad in the paper for a spot as production assistant in the Met's radio department. She got the job.
Mr. Gelb was at the time the executive producer of the Met's television broadcasts, and he took Ms. Bongiovanni under his wing. She left to work for him at the artist-management agency CAMI, where he was in charge of film projects. When Sony bought CAMI Video in 1993 and Mr. Gelb became head of Sony Classical, she became a producer at the label, coordinating recording, production and post-production.
It was an ideal fit. "I'm not a creative person, but I love being in a creative environment," she said. And the '90s were the last good time to be in the classical record industry; Sony, especially, was propelled by Mr. Gelb's bold, controversial crossover projects. It was also a peak of the "old" Met's media outreach: almost two dozen live radio broadcasts per season as well as several televised operas. In the early years of the new millennium, though, funding started to dry up, along with ticket sales, and TV broadcasts dwindled to one or two a season.
"That changed very quickly when we got here," Ms. Bongiovanni said. Mr. Gelb was appointed general manager in 2004 (his predecessor, Joseph Volpe, was retiring at the end of the 2005-06 season), and she joined him in the beginning of 2006. "The media department had its set thing that it was doing, and doing well, but it wasn't growing."