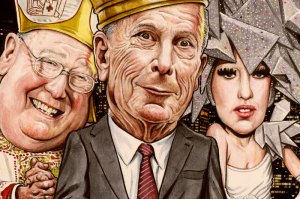 While not much good has come from the Great Recession, there is this: It has created an entirely new power dynamic in New York.
For decades, the power structure in this city was firmly established, even calcified. The same people. The same agendas. The same outcomes. Which isn't to say that our business, political and culture leaders have been all bad; indeed, under their (usually) benevolent direction, the city thrived, in spite of it all.
But would it have killed them to mix it up a bit?
Now, the bad economy has done it for them. We are, at the moment, in the middle of one of the great generational shifts in New York power; the gang of greats who helped build the city is on the way out, and a new class of pooh-bahs is moving in.
This issue is our stab at chronicling that transition. While many of New York's iconic leaders still hold sway, check their rankings. Names like Henry Kravis and S.I. Newhouse and Leonard Lauder are still there, but they're nowhere near as high on our list as they would have been even a year ago. Others, like Barry Diller and Sumner Redstone, are off entirely.
In their place is a new crop of big shots who have moved in with breathtaking speed. Fred Wilson is the undisputed king of Silicon Alley. Mikhail Prokhorov is a surging sports presence. Preet Bharara is our next Eliot Ness.
In media, people like Hugo Lindgren and Josh Tyrangiel and Emily Smith are the new standard-bearers. Culture is now led by Philip Seymour Hoffman and James Franco. And an astonishingly creative new class of tech leaders, like Dennis Crowley and John Borthwick, are making Manhattan a legit contender.
Things haven't been in this much flux in our lifetimes.
Given all of this, our top choice, Mayor Michael Bloomberg, could be considered an anomaly–an old-style business leader, the second-richest guy in town. But in his way, Mr. Bloomberg is, too, representative of the new New York: post-partisan, new media, anti-patronage. We don't expect much argument for choosing him as our No. 1.
As for the rest of the list, a note on methodology: There wasn't any. This is a purely subjective, data-free ranking, though it does rely on the insights of Observer writers and editors, as well as New Yorkers whose opinions we trust. Your thoughts, and arguments, are welcome.
Check out The New York Observer's Power 150 below: