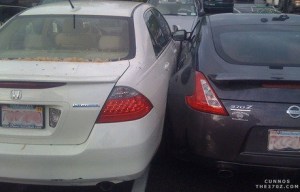 Grills, toasters, cars–all things are better when they become connected to the Internet.
Here is something to tide drivers over while they wait for Google's self-driving automobile: Web-enabled parking spaces that tell you when they're empty.
IPhone users in Los Angeles already have access to Parker, an app from San Francisco-based Streetline that tells you in real-time where to find clusters of free parking spaces.
Streetline will roll the app out to other cities this week, reports Ariel Schwartz at Fast Company, and guess who might be next: New York!
Or rather, Roosevelt Island, where low-power sensors have been installed in parking spaces next to the Roosevelt Island subway station and tramway.
Eventually, Streetline's plan is to offer sensors that are integrated with parking meters to enable dynamic pricing and other possibilities for maintenance, enforcement and collection.
Parking is even more restricted on tiny Roosevelt Island than in many parts of Manhattan, making the odd East River island an ideal test case.
"We are excited to have been selected by Roosevelt Island to help address their parking needs with our smart parking solutions," Zia Yusuf, CEO of Streetline, said in a press release in October, when the partnership was announced. "We applaud their forward thinking strategy and their dedication to utilize new technologies to manage parking for their historic city."
Streetline is working on an Android version of the Parker app.
"Parker will even find your best-bet block for rock-star parking: the one with the perfect combination of proximity and availability. You'll even know the time limits and pricing before you get there," the Streetline Web site promises.
We can't wait until the parking meters tweet!
ajeffries [at] observer.com | @adrjeffries