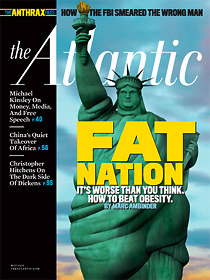 A rare success story from The New York Times media desk describes how The Atlantic turned its first profit in a decade. It took four years of "cannibalization" but here's how it's done:
Bring in a blog ringer to drive web traffic.
They lured Andrew Sullivan away from Time.com in what proved to be a major coup. Today Mr. Sullivan's blog, The Daily Dish, accounts for about a quarter of TheAtlantic.com's monthly unique visitors, which reached 4.8 million in October.
Ignore the print/web divide.
Mr. Smith also hired away the publisher of Wired, Jay Lauf, who did something fairly radical for the magazine business: He told his staff they did not have to meet separate targets for print and digital ad sales.

"If you do $1.8 million in digital and $200,000 in print, that's fine." In the last year, digital advertising revenue at The Atlantic rose almost 70 percent while print revenue climbed more than 25 percent.
Sell the brand to the suits:
Another major ingredient for growth has been Atlantic-branded conferences. The company started hosting events in 2006, and they now make up more than 14 percent of its total revenue. An annual conference in Aspen, Colo., a joint project with the Aspen Institute, draws 1,200 people who pay $2,700 for a four-day pass.
14% of total revenue! You can read a little bit about the 2010 Atlantic-branded Ideas Festival, with Bill Gates, Tobias Wolff, Biz Stone and Evan Williams, here.