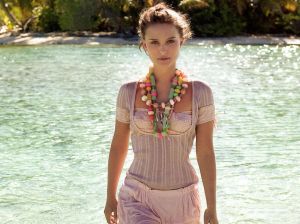 Regardless of whether or not she wins the Oscar for her tour-de-force performance in Black Swan, it looks like Natalie Portman will be taking home a statuette man. People reports today that Natalie Portman will be marrying boyfriend Benjamin Millepied, the ballet expert who trained her for the grueling ballet sequences and acted as her partner in the film. And what's more, the couple will be gifting the world with a fleet-footed sure-to-be-cute kid sometime next year.
The announcement shouldn't come as much of a surprise. We witnessed them together at Black Swan's premiere, at the Ziegfeld, and noted in a Scandal Report that on set, they were insufferably cuddly. Page Six noted that Millepied was the needy one of the two. Well, not much of a shocker there.
So, dancers everywhere: put yourselves on the market to work as a film's ballet trainer. You too can wed a famous starlet!
Click for Scandal Report: With Natalie and Mila in Town, New York Goes Swan-Crazy
nfreeman [at] observer.com | @nfreeman1234