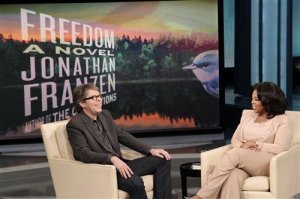 In September, Oprah Winfrey chose Freedom, the near-universally praised new novel by Jonathan Franzen, as a selection for her book club. This was significant for reasons apart from the fact that every Franzen-related tidbit — from stolen glasses to leaked copies to typos in the British edition — became headline news. The daytime host chose Franzen's The Corrections for her sales-boosting stamp of approval in 2001, but after the novelist called Oprah's picks "schmaltzy," he was not invited to appear on The Oprah Winfrey Show.
Today's events prove that time heals all lit-feud wounds. Franzen appeared on Oprah's show to discuss Freedom and from the outset both seemed intent to belie any concern for lingering tension — in fact they were downright congenial to each other. Franzen may be the most hallowed literary figure to appear of the show since Cormac McCarthy's rare appearance in 2007, and the AP has a brief report on the landmark moment in Oprah's Book Club history.
"Bottom line is, I'm happy to have you," Winfrey said.

"I'm happy to be here," Franzen replied.

Winfrey said in September that she read "Freedom" after Franzen sent her a copy during the summer along with a note. She said she considered it a "tour de force" after the first chapter and called it a "masterpiece."
Flavorwire has a few more quotes from the interview, including this gem from Franzen about meeting President Obama.
"I got summoned to the White House. Someone told me that I had 20 minutes with Obama, which I was told was an eternity. And it kind of felt like one, I mean what do you talk about? I said, 'You're my hero,' and that left 19 minutes and 45 seconds."