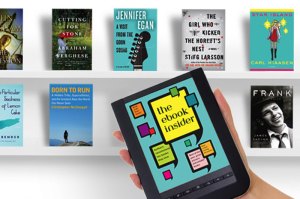 Ahead of Christmas day, when e-book sales are sure to be at their highest, Random House has assembled a guide to e-book purchasing that is available as an e-book at the Knopf site, as well as at other online book vendors. It's been dubbed The eBook Insider.
The guide is organized along the lines you might expect — there are sections for award winners, new and notable fiction, for example. In fact, the catalogue fails to offer any guidance in the one area that makes e-readers unique: the wealth of free books available on them.
Promotion for The eBook Insider will begin December 25, with print ads The New York Times Book Review and The New Yorker.