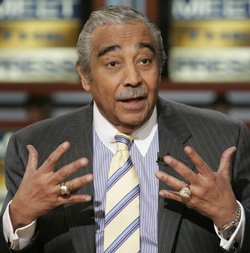 Charlie Rangel, who has been on something of a year-end media tour appeared on New York Nightly News last night and was asked about Mayor Bloomberg's response to the snowstorm.
"Overall the mayor has done a good job," Rangel said. "And where you have a tragedy, in that particular community, he has done a lousy job. In depends on if you were hurt by it and it depends on whether people are talking about more than inconvenience."
It is worth noting that Rangel and Bloomberg have developed an unusually close political relationship over the last several years, with Bloomberg doing robo-calls on the Rangel's behalf and headlining a birthday fundraiser for him back when Rangel was getting major heat over his ethics investigations.
Rangel also seemed to take a shot at those outer-borough complainers.
"They say they are from New York," he said with a laugh. "I was born to believe it–Manhattan is really New York City."
Rangel was also asked what he learned from the censure resolution that passed the House last month. His first answer? "Never ask for an investigation unless you know what they are going to come up with."
View more news videos at: http://www.nbcnewyork.com/video.