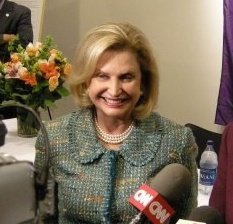 Congresswoman Carolyn Maloney is lining up backers for her bid to become ranking member of the House Oversight Committee, and it appears she has the full support of the New York delegation.
When The Observer inquired as to whether Congressman Charlie Rangel would be supporting Maloney or Maryland Congressman Elijah Cummings–a fellow member of the Congressional Black Caucus–Rangel replied through a spokesperson that the entire New York delegation will be backing Maloney.
Maloney and Cummings are suddenly vying for the post after Brooklyn Congressman Ed Towns decided yesterday not to seek the ranking member title. That left four New York members to choose between their delegation-mate (Maloney), and their comrade in the CBC (Cummings).
Towns endorsed Maloney last night, and now–according to Rangel–the rest are following suit.
Maloney also has the backing of several women's organizations, and, according to The Hill, two of the most senior women in the House–Congresswomen Gwen Moore and Marcy Kaptur.
Meanwhile, the CBC has yet to back Cummings. A spokesman did not return an earlier call for comment.