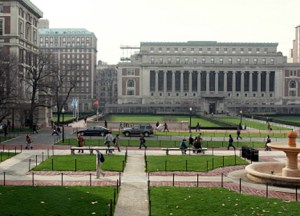 Morningside Heights is a little less high this week. On Tuesday, police busted a five-person drug cartel at Columbia University, a student-run bonanza of coke, weed and acid that had brought in $11,000 for the kids. The undercover effort was dubbed "Operation Ivy League."
Now, the would-be kingpins have started to speak, and not surprisingly they're lashing out against the wolves in sheep's clothing that busted them. The New York Daily News reports that Chris Coles, a 20-year-old Columbia student, says the powder-and-pills sting on campus was "blown up to the umpteenth" — blown! — and remains convinced that some time in the slammer won't restrict him from finishing his degree.
A double major in anthropology and political science who plans to attend law school, Coles took the sob story route and was all like "I got in the game to pay for college!." Good luck with that excuse, man.
The Daily News also includes this anecdote:
[Coles] said that when one of his codefendants, Jose Stephan Perez, asked for a jacket when he was rousted him from his room, cops slapped a Columbia sweatshirt on him.
"They were laughing at him," Coles said of Perez, 20, who is attending Columbia as one of billionaire Bill Gates' Millennium Scholars.
Better than wearing stripes!