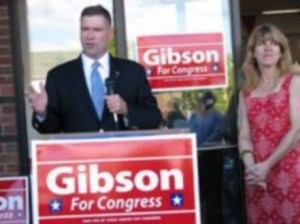 Congressman-elect Chris Gibson was assigned to the House Agriculture and Armed Services committees, his spokesman confirmed today.
According to Gibson's office, these were his top two committee picks, though it was reported that he had been angling for a seat on the House Energy and Commerce Committee. The Energy and Commerce Committee will be the hotspot for discussions on a possible health care overhaul, and Gibson placed heavy emphasis on repealing the Affordable Care Act during his campaign.
Nonetheless, Gibson's placements put him in on the same committees as his predecessor, Democrat Scott Murphy.
"New York farms have been struggling, particularly in recent years, to remain profitable in an increasingly competitive marketplace. The rural nature of our district relies heavily of the profitability of our family farms," Gibson said in a statement. "On the Agriculture Committee, I will be an ardent and strong champion for our farmers to ensure that they are treated fairly, particularly in regards to how their products are priced."
Gibson will be taking 24 years of military experience with him to the Armed Services committee. He is the recipient of a Purple Heart and most recently served in Iraq.
"This post will give me the opportunity to ensure our troops and their families have the resources they need and deserve, and that we can bring our conflicts in Iraq and Afghanistan to a rapid and successful conclusion," the release quoted. "Additionally, a top priority of mine will be instituting reforms to make certain our defense dollars are spent judiciously and effectively, particularly in light of our challenging economic times."