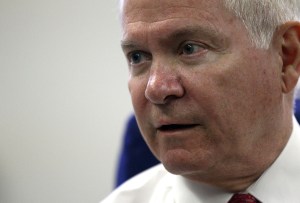 Secretary of Defense Robert Gates has been named Man of the Year by mtvU, MTV's college network. He is joined in the honor by rapper Nicki Minaj, who is the network's Woman of the Year.
It's the first year that the cable network, which broadcasts to 750 college campuses and is available on many digital cable packages, has named people of the year and Sec. Gates' receiving the honor seems strongly motivated by the recent repeal of Don't Ask Don't Tell.
via Reuters:
"It is somewhat counter-intuitive," MTV General Manager Stephen Friedman said of Gates. "But when you look at what he's done, especially this year … he's really a role model as a public servant who has avoided the partisan rhetoric."
The repeal passed both houses of Congress earlier in the week and President Obama signed it into law this morning.