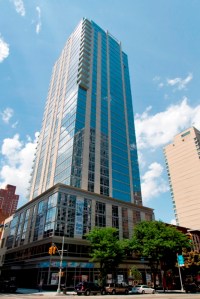 Numerous new condo buildings across the city have struggled throughout the recession, though none quite like the Azure on East 91st Street.
There are the typical problems, namely units that came on the market mere days before the collapse of Lehman Brothers and have sat there unsold ever since. But there is also the shadow of another collapse looming over the Azure, that of the crane that fell in May 2008, killing two operators inside.
Nearly two years after the accident, the building had its grand opening in April, but there was little movement in the apartments — until now, a sign that the building may have finally rebounded from its
bad luck.
Over the past three months, a dozen units have closed in the building, with 12 more now in contract, the developer told The Observer. That would nudge the 128-unit building over the 15 percent mark, allowing for units in the building to start closing. In deed! The Observer has reported at least three of these sales.
"Azure offers quality construction, superior amenities, spectacular prices and competitive pricing," Douglas MacLaury, senior vice president of the Mattone Group, which is co-developing the project, said in an email. "Comparable inventory on the Upper East Side has been dramatically reduced over the last three quarters, so from a supply and demand perspective Azure is well positioned to move to over 50 percent sold in early 2011."
Whether or not this bold proclamation comes true — it's still dicey out there! — one thing is certain: The Azure has faired considerably better than 303 East 51st Street. That is the project that suffered the first crane collapse of 2008, in March of that year, which crushed a townhouse and killed seven people. That project was sold amidst its foreclosure last year and remains incomplete.