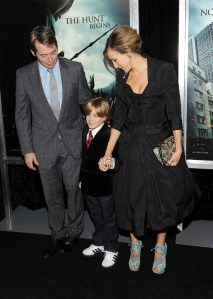 Nothing sells a tabloid in the sleepy days of summer like Sarah Jessica Parker and Matthew Broderick's epic Manhattan shopping expedition.
The couple and their growing brood live in a townhouse in the West Village, but apparently that started to feel cozy after they added twins in June 2009. This spring the couple were rumored to be checking out a much larger $24 million townhouse in the nabe. Speculation also swirled that they were eying a $19.9 million triplex penthouse close to home at star-magnet 54 Bond Street. Then a month later it sounded like they might be moving all the way up to a $29.8 million penthouse duplex at 610 Park Avenue.
A source told The Observer that the couple most recently checked out Madonna's old place at 41 Central Park West, but that didn't pan out because the co-op board is still smarting from her apartment binge in the building, which led to months of noisy construction.
Now, ending months of speculation, the stars appear to have settled on Laurie Tisch's former place at 88 Central Park West, according to the very reliable source. The apartment, with a 32-foot living room and 10.5-foot ceilings, has eight bedrooms, five bathrooms and five half-bathrooms. But perhaps most likely to strike the fancy of the fashionista are the two walk-in closets in the master bedroom.
The place raised eyebrows in August for its ambitious $25 million price tag. It recently dropped to $21.5 million–still more than the $17.75 million Sting's spread in the same building went for earlier this year.
The apartment is listed by Cindy Kurtin and Jessica Vertullo-Maher of Stribling. When reached by The Observer, Ms. Kurtin sweetly asked, "Why would you want to write a story about that apartment?" She declined to comment on the story.
UPDATE: The listing just went into contract today, according to StreetEasy.com.
RELATED: Inside the star couple's new home (before we knew it was theirs)
lkusisto@observer.com