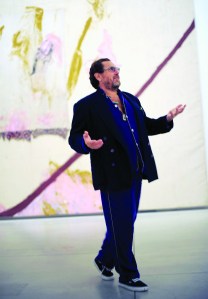 "I don't wear hats," Julian Schnabel announced, frowning and jamming one on his head to block the Miami sun. It created a curious picture, giving the top half of the artist's burly bear of a body, encased in a tight plaid flannel shirt, far more covering than the sneaker-and-shorts bottom. He was a walking, attention-getting advertisement: The hat read "JP Hero" for Jenkins-Penn Haiti Relief Organization.
Later the same evening, Mr. Schnabel raised $1 million at the city's New World Symphony with the sale of five huge artworks he had donated to the charity, run by his friend Sean Penn. They were bid on and won by Naomi Campbell, collector Peter Brant and restaurateur Michael Chow, of Mr. Chow's.
Famous as an artist since his breakout 1979 show at Mary Boone Gallery, Mr. Schnabel is known for frenzied, ecstatic, large-scale paintings and portraits, often done on nontraditional surfaces such as maps, velvet or cracked plates. In recent years, he's become equally famous as a director, of Basquiat (1996), Before Night Falls (2001), Lou Reed: Berlin (2007) and The Diving Bell and the Butterfly (2007), which was nominated for a Best Picture Oscar.
Mr. Schnabel was in Miami for that auction and talked about two things: his new likely-to-be-controversial movie Miral, opening in 2011, and a two-year partnership with German luxury car manufacturer Maybach, which has commissioned artwork and is bringing it to the Venice Biennale.
How is power different in the art world and in the film world?
There's different kinds of power. Power is something that is very transient, especially in the film world. I thought that John Lesher [ousted president of Paramount Pictures], they had Paramount Vantage, and for the short time he worked there, he made sure some good movies were made. And, all of a sudden, there was no space for that in Paramount. If you look at the landscape now, less and less small and indie films have distribution possibilities. That's one thing that Harvey Weinstein did early on and continues to do, but, at the same time, it's been a difficult road there.
'I knew de Kooning, Andy, Rauschenberg, Clyfford [Still], at Max's Kansas City. I was alive at a very interesting time. I still am.'
Do you have to compromise more in one field than another?
As a filmmaker, you have to ask yourself: Do you make a work of art to aim at your most uncompromised, deepest conviction, is the integrity preserved, or do you compromise that in order to sell? Is there a way to make a movie that sells a lot of tickets that is at the same time meaningful?
But you don't see movies as that different than art?
[Growing up], the movies [I saw] were as important to me as my own memories.
What's Miral about?
The movie is about a Palestinian girl, and it's a portrait of her growing up in East Jerusalem and living through the conflict. [The lead is played by Freida Pinto of Slumdog Millionaire] and I was particularly impressed with Freida. She became Miral. She had a depth of feeling to touch the issue.
You seem to love actors; you've painted an unusual number of them–Gary Oldham, Dennis Hopper. Christopher Walken, Albert Finney–
[It's a tribute], it's a way of acknowledging their existence.
You painted Brando, and said you thought he was the greatest actor we've ever had.
He seemed to be the most natural, to tap into something inside of himself that seemed to go beyond the script, beyond the film, and bring a kind of humanity to things. He brought the intensity, brought the whole material of beauty into what he would make.
In The Godfather?
I like to think of him in Apocalypse Now talking about that pile of little arms, and you know he probably ad-libbed a lot of that stuff. If somebody, an actor, can do something like that, that's a surprise. Javier [Bardem], Sean, Johnny Depp can do that.
You've had just a couple of screenings of Miral for audiences so far.
I see the response of audiences; they are so moved. The film will be driven by audiences. It's a complicated story. We're screening it at the United Nations General Assembly March 15.
You said that you being a New York Jew is particularly important to this film. Why?
My mother was the president of Hadassah the year of the birth of the state of Israel, and my mother hoped for this utopian state. So it's different [with] me making the film than anyone else.
How important is the New York part to you?
I moved from New York City to Brownsville, Texas, as a teenager, and I had to make a decision if I was going to go back to New York City and be a painter or go to Hawaii and be a surfer like my friends.
You chose art, but still surf, and sometimes paint surfers.
Surfers to me are like gladiators in an arena. How do you compete with that drama? [But] I have always been a painter. I went back to New York in 1973 and felt a kind of liberation and freedom, just being a young person walking down the street with all the possibilities in the world. I knew de Kooning, Andy, Rauschenberg, Clyfford [Still], at Max's [Kansas City.]
What was it like?
A lot of my schooling happened there … conversations with Richard Serra. I was alive at a very interesting time.
Do you still feel you are alive at an interesting time?
I feel that way; I'm totally free. It's like that Bob Dylan song, My Back Pages–'But I was so much older then, I'm younger than that now.' When you're older, you have a clearer perspective. You can be more radical
Your partnership with Maybach seems … unlikely?
I'm not a particularly corporate person. I walked out of a Chinese restaurant in Paris and I saw the car. I like the shape. I knew the guy who owned it and asked for a ride. It has reclining seats just like an airplane. I didn't feel like I was moving; I felt like I was watching a movie of myself inside the car being driven around. So I made a [short film] about it.
But they're also sponsoring this benefit auction for Sean Penn's charity.
Sean Penn and I have been friends for 25 years, maybe more, and he's been working so hard with a village in Haiti.
You've been successful in two fields. Do you feel successful?
I think the most beautiful thing is when people that you respect [care about] what you do. I got this note from Elvis Costello, and Elvis went to [my current show at] the Art Gallery of Ontario, and he sent me a text message. What he said to me was: 'I walked into your show and it was a beautiful song.'
Do you like Art Basel Miami Beach?
[I figured out] if I go three places a year that are warm, instead of having 30 more summers, I can have 90. It's a good idea. But art fairs are not for artists. … As an artist, if you're hanging out at an art fair, it seems as if you want something from somebody.
apeers@observer.com
READ MORE ABOUT ART BASEL:
Schnabel Paints the Town: The Artist-Director on Film, Power, Charity and Art
Land of 1,000 Air Kisses: Art Basel Miami Beach, With Regrets
A Frisson of the New: Haden-Guest Prowls the Art Fairs

The Business of Art Basel : What Sold, to Who, and How Much