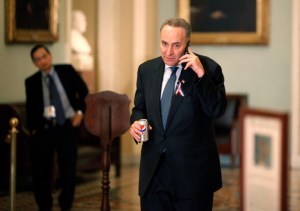 There is at least one New York representative satisfied with President Obama's leadership on the 9/11 health care bill.
"As for the president, he's done everything we've asked," Senator Chuck Schumer told Andrea Mitchell this morning in an appearance on Morning Joe. "I have no complaints about the president's role on this. He's had a lot on his plate, but on this issue, he has done what we have asked him to do."
Schumer's comments come one day after Congresswoman Carolyn Maloney called on the White House to match the effort of Daily Show host Jon Stewart, who devoted a full program to advocating for the bill.
"Jon Stewart has done his part for the 9/11 health bill–now it's the President's turn to speak up and get personally involved in the effort to pass the legislation," Maloney told the Daily News.
The Times echoed that sentiment this morning. "President Obama should stop letting Jon Stewart carry the ball, step in and insist that Congress pass the bill," the paper wrote in an editorial.
Yesterday, White House Press Secretary Robert Gibbs applauded Stewart for his efforts, and said he hoped Stewart could convince two Republicans to support the bill.
Schumer conceded this morning that any one Republican could stall the bill, and thereby kill it, by pushing it back into the Christmas holiday, and he pleaded with his colleagues not to block it from coming for an up-or-down vote. The Senate is expected to take up the measure this afternoon, after it passes the START nuclear proliferation treaty.
As for why the bill didn't get done sooner, Schumer said Republicans forced Democrats to deal with other matters first.
"We tried to move it as quickly as possible, but you saw how full the plate is," Schumer said.
Here's video of his appearance: