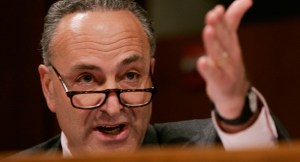 Chuck Schumer took to the floor of the Senate today to call on Republicans to give up their opposition to the Zadroga Bill, which would provide health coverage to 9/11 first responders.
The bill currently has 59 supporters, one short of ending a filibuster.
"It is time for the minority party to allow for a straight up-or-down vote," says Schumer. "We have debated this bill for years. It has been like running a marathon, and this is the last 100 yards. Thousands of first-responders are waiting for us to act, and for all too many of them, help cannot come soon enough."
Republicans had been vowing to not allow the bill to come to the floor unless Democrats agree to an extension of the Bush-era tax cuts.
Says Schumer:
"It is time for the minority party to stop playing politics with our heroes' health care. It is quite unnerving, to put it mildly, when I hear some people on the other side say that unless you take care of tax breaks for millionaires, I won't vote for this bill."
VIDEO: