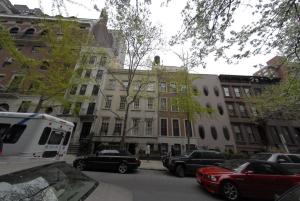 Steve Schwarzman was deemed a Scrooge until he donated $100 million for a new wing of the New York Public Library.
Meanwhile, his daughter, Elizabeth "Zibby" Right, lights up charity balls with her apple-cheeked smile. Perhaps that's where she and husband Andrew rubbed the right satin-clad shoulders: They just sold their Upper East Side townhouse to Memorial Sloane-Kettering Cancer Center for $6.35 million without putting it on the market.
The daughter of America's 69th-richest man literally married Mr. Right, a Goldman Sachs exec, in 2005. The newlyweds then purchased the four-story townhouse, tucked away at 247 East 71st Street, for $5.5 million. Ms. Right appears to have made the perfect match, because brokers unwittingly describe both her and the 15-foot colonial-style manse as "lovely" and "gracious."
The Yale grad is the co-author of Your Perfect Fit: What to Wear to Show Off Your Assets/What to Do to Tone Up Your Trouble Spots. More recently, she's chronicled the challenges of raising twins–a task surely made more pleasant by a wood-burning fireplace and a private garden.
Sotheby's Courtney Arnot, who worked on the deal, said the couple had planned to list the 1890s townhouse publicly. It has an unusual layout, with the kitchen on the second floor. A broker familiar with it was astonished by the price, saying of the 3,900-square-foot spread: "It's quite small."