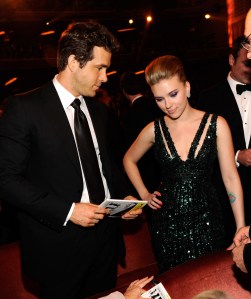 Isn't just so convenient that the recipients of two of the most prominent ultra-shallow sales-boosting magazine awards are married to each other? Scarlett Johansson — GQ's Babe of the Year — and Ryan Reynolds — People's Sexiest Man Alive. Hollywood's sweethearts, together forever, bound by holy matrimony. It got us thinking: isn't this just a bit too perfect?
Cue the crashing glass ceiling sound effect, because it is too perfect. TMZ is reporting that the couple has separated. As of now, there are no news of how the divorce will play out. Messy probably!
People, which has it from a source that the pair split six months ago, has given us the boilerplate no-hard-feelings joint statement.
"After long and careful consideration on both our parts, we've decided to end our marriage," it reads. "We entered our relationship with love and it's with love and kindness we leave it. While privacy isn't expected, it's certainly appreciated."
Good luck with that whole privacy thing, guys!
nfreeman [at] observer.com | @nfreeman1234
Check out Scandal Report: The Tao of Ryan and Scarlett, Homecoming King and Queen.>>