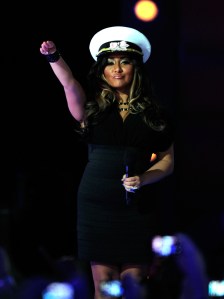 Tumblr may want to refortify its servers. Just days after suffering a 24-hour shutdown, the microblogging service welcomed to its user base someone who could very well raise its profile among less savvy webloggers. This user is none other than Nicole "Snooki" Polizzi.
The inaugural post is called "First blog!!" We'll give it to you unabridged.
Hiiii everyone! I've been waiting so long to put a blog and finally got it up! First off I want to say Thank you sososo much to all the snooki supporters out there! I have the best fans Ever and I love you guys to death! Thank you for making Jersey Shore such a success and standing by me always! Means a lot! This past year has legit been a blessing and I'm so greatful for all the opportunities that have come my way! I have a great team that's helping me to "snook-afie" all of my fans, which include my snooki slippers (Snookislippers.com) and my book coming out in january ! I also have a ton more to come in the future and I'm very happy that you guys are so supportive and loving my brands! So stay tuned to this blog which I will try and update twice a week to keep intouch with yous guys! I love you always and thank you for your love! Snooki Revolution !! Love always,

Nicole 🙂 xox
This is going to be so, so much fun. Insta-follow.