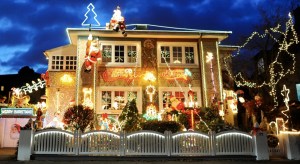 For all those underwater homeowners out there, there may not be enough money to buy presents this year, but at least the big banks won't be evicting anyone during the holidays.
Well, the Christian holidays. Fannie Mae and Freddie Mac, the federally sponsored lenders, announced that they will hold off on foreclosures for the two weeks surrounding Christmas this year, according to CNN. Chanukkah came early this year, so no luck for Jewish homeowners.
"If the property is occupied, our foreclosure attorneys will suspend the eviction to provide a greater measure of certainty to families during the holidays," Anthony Renzi, executive vice president of single family portfolio management at Freddie Mac, told CNN. Tell that to the Rothsteins, pal.
Meanwhile, many of the big banks, such as Wells Fargo and Bank of America have been following suit, though not entirely out of the goodness of their hearts:
A spokesman for Chase Mortgage, a division of J.P. Morgan Chase, said its robo-signing-connected moratorium makes an additional holiday freeze moot; it will still be several weeks before it starts to evict borrowers again.
Bah, humbug.
mchaban@observer.com