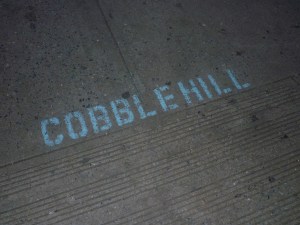 The divination of a neighborhood is tricky business in New York City. Fortunately, an intrepid street artist has set out to answer an age-old question, one that stretches back at least as far as the 1980s: Where does Cobble Hill end and Carroll Gardens begin?
Strangers could be forgiven for not knowing the answer, given that the neighborhoods are practically identical, along with their younger brother Boerum Hill. The separated-at-birth nickname "BoCoCa" was evened coined to redress this confusion–let's just make an uber-brownstone `hood and be done with it.
Unsatisfied with this solution, and unable to suffer fools any longer, some dear soul has now indelibly made the distinction clear, using stenciled-in spray paint on either side of DeGraw Street. The porous, pompous border is now set in graffiti'd stone.
Now if only they could figure out what neighborhood Smith Street falls in or do something about those yuppies/liberals.