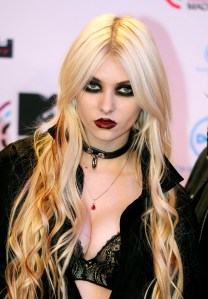 In the season finale of the fourth season of Gossip Girl, Blair Waldorf banishes the character of Jenny Humphrey from the island of Manhattan, thus instigating her retreat from the Upper East Side enclave of entitlement that she once found herself on the cusp of breaching. Gossip Girl is a work of art that life imitates (the actors tryst exclusively amongst each other) and thus it should be of little shock that Taylor Momsen, who plays Jenny on the show, has has been dealt a similar coup de grâce.
Today Fashionista broke the news that Momsen has been dropped by her fashion agency, IMG, no doubt in response to what can only be called questionable life choices on her part. The New York Daily News reminds us that the 17-year-old has recently waxed poetic about her love for self-pleasure, bared no bones about her under-aged smoking habit, dressed in outfits that would look scanty in a strip club and, to top things off, flashed the crowd at Don Hill's during a performance with her punk band Pretty Reckless.
Perhaps a less rambunctious young face would be better suited for the IMG brand, no? Nylon is reporting that they've replaced Momsen with budding silver screen star Dakota Fanning. Unlike Momsen, Fanning's child star career is still on the up: she had roles in both The Runaways and the Twilight film this year, while Momsen appears to be "on hiatus" from Gossip Girl. Goodnight, Brooklynite-turned-Upper East Sider! XOXO!
nfreeman at observer.com |@nfreeman1234
Click for Scandal Report: And Then The Model At Diddy's Party Burst Into Flames