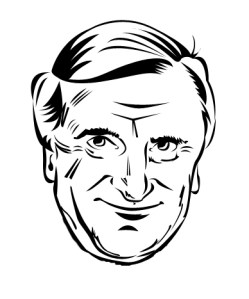 On Monday, everyone was asking me, "What is Alex Rodriguez doing with Sandy Weill?" And I told them the truth, "I don't know!" But the Yankee was eating lunch with Mr. Weill, so they must have something to talk about! At another table Peggy Siegel had her annual Christmas lunch with about 10 people, including Tory Burch and Billie Jean King, who got up and said a big hello to A Rod. Peggy is the ultimate hostess; she always decorates the table with little Christmas trees, just extraordinary! The grill was very crowded on Monday. Everyone is so relieved; they have been celebrating the tax cut extension. There's money to spend! Many guests have been telling me that the president made the right decision.
This week, it was a fairly politically connected group. Caroline Kennedy lunched with Jann Wenner at the same time as Christine Quinn ate with Mort Zuckerman. Politics and media unite! Former senator Bob Kerrey stopped by. (I know it was Bob because John Kerry was here last week. Sometimes I get them confused!) And earlier in the week, Felix Rohatyn lunched with two of his children. Even Henry Kissinger was here!
Mrs. Governor-elect ate with Lee Schrager, the producer of the Food and Wine Festival. You know, fellow food industry people. She looked beautiful; she looked like she was coming out of a TV set! And she had no security details, so I guess her life hasn't changed too much since the election.
The former British prime minister, Gordon Brown, came for an interview with Maria Bartiromo in a private room upstairs. Afterward they came down to have a bite to eat in the Pool Room. The prime minister is clearly the perfect model of the British Austerity Movement even when he's not paying the check: He ordered his lunch from our thrifty $45 prix fixe menu!
In another private room, Pete Peterson threw a going-away party for Foreign Affairs magazine veteran Jim Hoge on Thursday evening, who was celebrating his retirement from the Council on Foreign Relations. And of course, Mr. Peterson's wife, Joan Ganz Cooney, was among the 80 people invited. We served a regular salad because Mr. Peterson claims to be allergic to white truffles. (I think he's only allergic to the price, so I managed to sneak a few shavings of white truffles on each salad.) Then we served an exceptional rack of lamb. It was a very New York group, people like Ralph Schlosstein and Joel Schumacher. The mayor's name was on the list, but he didn't end up coming.
The prince is out of town. He's back opening up some more oil fields. But we'll have some Petrus waiting for him when he returns.
The Post mentioned our truly spectacular birthday party last Friday evening for Karen Miehl, wife of former lieutenant governor candidate and Democratic fund-raiser Dennis Miehl. Another tax-cut happy politico!
Star Jones came with a big group of people for lunch on Friday. She told me she's writing a book and wants to have the book party here in April. I don't know what the book is about, but I hope it's not about sex–can you imagine?!
Tim and Nina Zagat lunched with a group of seven people on Friday. Mr. Zagat is definitely the most powerful food man in New York. You can't believe how popular he is; it takes him 20 minutes just to sit down at his table because he has to greet so many friends in the restaurant!
Other than that, we've been booked, booked, booked. The closer you get to Christmas, the more people want to go out, and we have only so many tables, so it's difficult to make everyone happy. But you have to try. You know, were not dealing with an ecosystem, were dealing with an ego-system.
Julian Niccolini is co-owner of the Four Seasons restaurant in Manhattan.