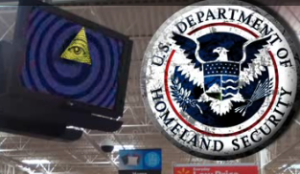 The recently announced partnership between Walmart and the Department of Homeland Security—under which the discount retailer agrees to pepper customers with the cheerful holiday greeting, "If You See Something, Say Something"—has set off a rebellion among the conspiracy-theory crowd listeners of radio host Alex Jones, a number of whom are among the store's core customers.
New Yorkers, of course, are accustomed to hearing the slogan, which was developed for the MTA by local ad man Allen Kay, of Korey Kay & Partners. It's since been adopted by some 50 other agencies and municipalities, and the MTA trademarked the phrase back in '05. (According to Kay, it can only be used by legitimate organizations for security purposes, and every use must credit the MTA and Korey Kay & Partners. Despite the Authority's budget shortfalls, it doesn't charge for the privilege.)
Kay added that the global awareness of the phrase is "amazing," beating even his acclaimed 1975 commercial for Xerox, "It's a Miracle," which was named by Ad Age as one of the 100 best campaigns of the 20th century.
The now famous catchphrase came to him, Kay said, "as a kneejerk reaction" on September 12, 2001. One key sign of its success, he pointed out, was its utterance by T shirt vendor Lance Orton after he was credited with stopping the planned Times Square bombing earlier this year.
But Alex Jones sees something decidedly more sinister in the slogan's adoption by Walmart. "We are going into hardcore tyrrany!" he warns in a new video, decrying the latest incursion by "Big Sister," as he dubs DHS director Janet Napolitano, into our lives. Calling the plan "Big Brother on steroids," he adds, "Imagine what's coming next if we go along with this outrage." He urges viewers who are alarmed by the plan to "call [Walmart] and let 'em know that you're not going to be shopping at their stores until they kick the Federal government out of them."
"That's ridiculous," Kay said. "That's absurd. The whole reason for doing it was to save lives, and I think the sane people of the world see it as a positive slogan."
The question for the retail chain, in the final lead-up to Christmas, is just how how many of those sane people are regular Walmart shoppers—and how damaging Jones' call to action will be. Given the parallel campaign by the American Family Association to punish retailers who are dubbed "naughty" for their ecumenically incorrect use of phrases like "happy holidays," one can't help wondering if there are any decent stores left where the socially aware conservative shopper can pick up an affordable flat-screen this year.
Update 5:51 pm: Walmart spokesperson Dan Fogelman, while declining to say if Jones's campaign has brought a flood of calls to the company's HQ, sent over a response. "Walmart is a place where people gather—in many towns, it is where neighbors might see each other the most," he wrote in part. "We want our customers and associates to always be vigilant, whenever they are out in public, to help them ensure their personal safety and the safety of their community."
Update Dec 8: The commenters make a good point. The characterization of opponents of the Walmart partnership as "the conspiracy theory crowd" was unfair, and their point of view is legitimate. I've updated the post to reflect that.
MORE: Why Conspiracy Theorists Think the Simpsons Predicted 9/11