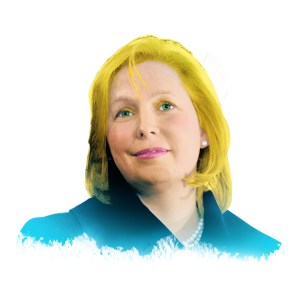 Senator Kirsten Gillibrand is having a moment.
On Sunday, New Yorkers unfurled their copies of The Times to see Ms. Gillibrand above the fold, one of the smiling faces of the push to repeal Don't Ask Don't Tell.
Last week, she broke with her benefactors in the White House, and her mentor, Senator Charles Schumer, and voted against President Obama's tax-cut compromise. And throughout the frenzied lame-duck session, she's made the cable rounds–territory where she used to tread lightly–to decry the Republicans who are holding up the 9/11 health care bill.
All of which comes on the heels of a blowout win in her first statewide campaign in November, when the perpetually "vulnerable" senator amassed 63 percent of the vote.
"She emerged from this campaign as a senator with national stature," said Robert Zimmerman, a Democratic National Committee member and a party fund-raiser.
Such assertions, even from her staunchest supporters, would have been absurd a year ago, when Ms. Gillibrand was still struggling to get her bearings as an appointed senator, and the seat was seen as low-hanging fruit for any number of big-name opponents, from Rudy Giuliani to Mort Zuckerman. And certainly, her stature and influence in the Senate's Democratic conference, where she is still very much appropriately junior, isn't necessarily advancing at the same rapid pace as her public image.
But it can at least be said that Ms. Gillibrand is beginning to carve out a distinct role for herself. Ironically, given the fact that she began life as an elected official a few years ago as a conservative Democratic congresswoman, she is staking out a role as a progressive champion for New York's liberal base.
She is essentially following the playbook designed by Mr. Schumer, the liberal Brooklyn congressman turned Pan-New York champion, but from the opposite direction. It is a program designed for, among other things, longevity.
"She's going to be there as long as she wants to," said Anthony Weiner, who has become the resident champion of the party's liberal base. "She definitely has the chops to be a great senator."
According to her aides, it was the brief but aggressive challenge from Harold Ford Jr.–a smooth-talking banking executive and former Tennessee congressman–that helped Ms. Gillibrand find her voice.
Mr. Ford, with his unabashedly pro-business positions and Wall Street-themed neckwear, provided a natural foil for Ms. Gillibrand, allowing her to stand up for traditional New York Democrats. And, after 12 months as a punching bag, she was finally able take some swings.
The execution was not always artful–"If HF were here, he would probably be sitting on the Republican side," she posted to Twitter from the State of the Union address–but when Mr. Ford eventually backed down, aides say Ms. Gillibrand hit her stride.
While she is still prone to nervous hand-wringing and the occasional long-winded answer, Ms. Gillibrand has undeniably evolved from the wide-eyed congresswoman who gave a rambling speech when she accepted the appointment, a 25-minute opus that caused her to miss a congratulatory phone call from the president.
On Sunday, at a press conference at the Capitol, she repeatedly jumped in with concise responses to questions about the 9/11 health care bill, often stepping on the words of Mr. Schumer, who repeatedly deferred, even as he towered over her.
The Sunday before, she had done the same thing to Brooklyn Congresswoman Yvette Clarke at a press conference in midtown, when a reporter wondered whether Ms. Clarke's colleagues in the House might be hurting the president with their harsh criticism of his tax-cut compromise.
"No, no, no," Ms. Gillibrand muttered as Ms. Clarke turned and ceded the lectern. "This is just a passionate issue," she said, before launching into a brief speech about how the upper income credit won't create jobs for the middle class.
Ms. Gillibrand has been reluctant to talk about her own evolution.
"I don't feel differently," she told The Observer at a stop late in the campaign, while acknowledging the steep learning curve of the new job.
"You know, I didn't know that much about erosion on Long Island," Ms. Gillibrand said. "I didn't know that much about issues of the fishing industry from Long Island. I didn't know as much about some of the trouble in large, big inner cities. But I've had a year and a half now to spend time. And I've been in every one of the 62 counties."