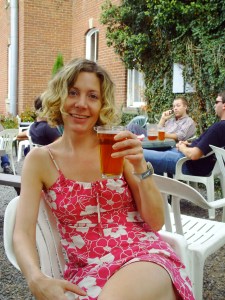 "My father's a statistician," said Jen Schwertman on the Friday night before Thanksgiving. She was in the front booth of an after-work bar in the financial district, just off the 1 line, talking over the labored small talk of men in loosened ties and the women in pencil skirts playing defense. She was sipping a Sierra Nevada Torpedo. "He's a professor at Chico State. He is so one-track-minded toward math, it's amazing, and I've always envied him. He's always said, 'Oh my god, teaching is the best thing ever! I can't imagine a better life.'
Ms. Schwertman, a Chico, Calif., native who has been an expert beer bartender in some of New York's top beer bars for over a decade, speaks in deliberate, thought-out sentences, with her words slow at first and picking up steam toward punctuation.
"And I always thought it's a racket: You get to teach what you love."
For Ms. Schwertman, 41, that love has been craft beer. She studied art at Whittier College near L.A. (where Nixon went, right? "Nobody talks about that"); after graduation in 1991, she moved to Denver to join some college friends from there. It was there that beer gradually seeped into the restless twenty-something's id.
She bluffed her way into a waitress job at the Wynkoop Brewing Company, Colorado's oldest brewpub, founded by John Hickenlooper, later Denver's mayor and, as of next month, the state's governor ("Hickenlooper's a friend of mine. I've got the secret code if I want to get an email through to the governor.") Her only real work experience had been at Disneyland, where, among other duties, she drove the rafts back and forth across the Rivers of America to Tom Sawyer's Island. "I made people do the raft dance: I'd hit the dock poles hard and get 50 people to just go, 'Woah!'"
It was a matter of the right time and the right place, though it would be years before Ms. Schwertman realized how much she absorbed at the Wynkoop. Mr. Hickenlooper, then a struggling geologist, had gotten the idea for his brewpub while visiting California. The Golden State was where the modern craft beer movement started in the 1960s, with such iconic brands as Anchor Steam, New Albion and Sierra Nevada, which was founded in Ms. Schwertman's native Chico. The movement would move east, and with it, unwittingly, would Ms. Schwertman.
First it was Raleigh, North Carolina's capital, in early 1997. She moved with a boyfriend, a brewery rep. It was at a beer industry event, in a forgettable chain hotel off the Interstate in neighboring Durham, that the first inkling of a calling manifested itself. Ms. Schwertman:
"The day before the event there was a 'stouts, stogies and scotch night.'" Her boyfriend wandered off to talk business. "I get to chatting organically to maybe four guys. Once again, it's one of those moments where I have no idea what exactly we're talking about, what it is I said. I wasn't trying to impress; I was just sort of talking. But it was about beer. "For whatever reason–maybe it was the fact that I was in a Catholic schoolgirl's miniskirt, it could have had something to do with that–but, in truth, there was more do it than that. Because everyone in that room had some sort of association." They were all in the beer industry; she was not. "But in that moment, what struck me was that I had a high, I was in my element. I had that high when you are truly in your element.
"I remember waking up the next day. 'Something's going on here, Jen, and maybe you have your own place in this industry.'"
She and the boyfriend split in "the most congenial breakup ever," and she moved to New York to study at F.I.T. From there she turned a hobby into her own company, designing and selling elaborate hats. And from that small business came a 10-month run designing the men's and unisex accessories for Old Navy. All along, she bartended, one night there, another here.
Finally, in 2001, she turned full-time, the calling answered. "Who's to say why he's passionate about statistics and I'm passionate about beer?," Ms. Schwertman said, referring to her father, the professor back in Chico. "There's something on a more spiritual level that takes place—so I can't tell you why beer."
Now, she tends two nights a week at Bar 82 on Second Avenue in the East Village; a day shift at Fanelli's Café on Prince Street in Soho, one of the city's oldest bars (since 1847!); and weekend days at the archetypal Blind Tiger on Bleecker Street in the Village. It is in these places that she encounters both the experts and the neophytes, the initiated and the candidates.
"I do not know why it is," Ms. Schwertman said, "but there is a certain demographic that gravitates to craft brewing first: white male, probably 28 to 50. Educated. It's kind of the white male intelligentsia that gravitates there first, and that's in any market."
She has been gratified to see the New York craft beer market expand to entice more nonwhites and women. "A lot of the time, in the beginning, it was the girlfriends and the wives, who are humoring them, who are just like, 'Just order for me.' Right now, you're seeing more and more women coming in, who are ordering for themselves, know they like this, know they like that, who are empowered."
Ms. Schwertman also holds an understandable range of opinions on New York City's craft beerheads. (Yes, dear reader, you are being watched and studied.)
For instance, what of the prospective drinker weaned on Michelob Ultra? "Hops are an acquired taste," Ms. Schwertman said carefully, referring to the sticky flowers that give beer its bitterness. "Normally, people start maltier. I get people who say, 'Well, what'd you like?' They size me up. And I say, 'You don't want what I like.'"
What does she like? "I like hoppy. I like sour. I like really dark. And people's jaws drop. And they go, 'Well, I kind of like things that are lighter.' 'So, fine, you should try the Lagunitas Pilsner.'"
And if they like everything? "Tell me what you're in the mood for right now." But what if they ask for the best thing available? "No, don't go there. Because there's no best thing. … It doesn't have anything to do with what anybody else likes. It has to do with what your palate's ready for, what you're in the mood for. And if you give me that I'm pretty damn good at matching you with the right product."
She knows the product. With the most cursory of explanations from your columnist over the din of the after-work bar—"I ordered the hoppiest beer on the menu," I explained right after she arrived—a quick look and one furtive sniff from inches away, Ms. Schwertman said, "It's a Le Freak."
Spot on. It was a Le Freak Belgian IPA from Green Flash Brewery in—where else?—California.
"There is a beer for everyone out there," Ms. Schwertman said later. "It's just you gotta find it."
tacitelli@observer.com and Twitter: tacitelli