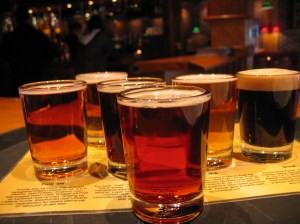 If you've been reading The Hophead this year, you know I focus more on the back stories of beers and the people behind them than on the tastes (go elsewhere, please, for serious disquisition on mouthfeel and bouquet—I don't claim to be a critic). I seek to report on the influencers of what we drink.
So I got this question from a reader: Who are the most influential people in American craft beer? Put another way, who did more than most in deciding why we might drink what we drink?
It's the end of another year. Why not look back?
In descending order, my (and, I'm sure, many others') run of the five most influential figures in American craft brewing over the last 45 years:
SLIDESHOW: THE FIVE MOST IMPORTANT FIGURES IN AMERICAN CRAFT BEER
tacitelli@observer.com | @tacitelli