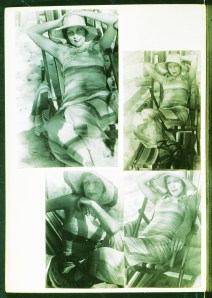 These women knew how to enter a room–and stay there in a permanent collection. The personalities, the tastemakers, the artists and intellectuals of their time, they were photographed and painted by superstars. These artworks have become some of the highlights in museums along Fifth Avenue, meaning these women, or their images, arguably occupy some of the best addresses in New York.
Gertrude Stein by Pablo Picasso
The Metropolitan Museum of Art
1000 Fifth Avenue
If her Paris apartment was the draw for European and American artists alike, then the same holds true for Gertrude Stein's New York digs at the Met. Her portrait hangs in good company there, painted by her friend Pablo Picasso around 1906 before his Cubist style took hold. She sat a whopping 90 times for it, although Picasso painted her head (three times) without her. Curiously, the head is stylistically different from her body. When someone commented that Stein did not bear a likeness to her portrait, Picasso famously said, "She will."
www.metmuseum.org
Design for a Mirror Frame with the Monogram of Marie-Antoinette by Richard de Lalonde
Cooper-Hewitt, National Design Museum
2 East 91st Street
Before she was beheaded in 1793, Marie Antoinette, along with her husband, King Louis XVI, spared no expense in decorating her palaces. The pair sought out the designs of Richard de Lalonde, whose style was neo-Classical. Around 1790, the queen herself commissioned a garland-and-floral-inspired mirror with her monogram, which was first rendered in pen and black ink with a gray and yellow wash. The design had to be lavish to frame the queen's infamous coifs.
www.cooperhewitt.org
Mrs. Lewandowski, Munich, Ascona VIII by Josef Albers
Solomon R. Guggenheim Museum
1071 Fifth Avenue
There was something about Mrs. Lewandowski, lounging in a striped beach chair, that made her fit to be Josef Albers's subject in 1930. Mrs. Lewandowski, a colleague of the pioneering artist's wife, is photographed in a straw hat smiling into the sun. Albers, the Bauhaus-trained artist and former head of Yale University's Design Department, shows the passage of time in this black-and-white photographic series of four. Now, time stands still for Mrs. Lewandowski, as visitors go round and round at the Guggenheim.
www.guggenheim.org
Portrait of Adele Bloch-Bauer by Gustav Klimt
Neue Galerie
1048 Fifth Avenue
She hangs over the street Forbes once ranked the most expensive in the world. Her distinction: She is made of oil and gold on canvas and was sold to cosmetics mogul Ron Lauder in 2006 for a sum rumored to be $135 million, which at the time made her the most expensive painting in the world (only to be topped later that year by Jackson Pollock's Number 5, 1948 at a reported $140 million). Like Marie Antoinette, she was a fellow Austrian and patron of the arts. Her husband, a sugar baron, commissioned the portrait, which took three years to complete; it was finished in 1907. It is on display in the former Fifth Avenue home of the Vanderbilt family, now the Neue Galerie.
www.neuegalerie.com
Portrait of Sally Etting by Thomas Sully
The Jewish Museum
1109 Fifth Avenue
America's Jewish community was small in the early years of the 1800s, but thriving. Sally Etting was from one of the more prominent families of the time, based in Philadelphia and Baltimore. Her father, Elijah Etting, traded with Native Americans and supplied goods for the Revolutionary Army. But it was her politically active brother Reuben who may have commissioned this oil on canvas of his sister, in 1808. Favoring neoclassical clothing and coifs, Sally sat for painter Thomas Sully, who was called the "prince of American portrait painters" by historian William Dunlap. Philadelphia has named streets after the Etting family, which remained socially prominent and influential for decades, but Sally looks quite at home here on Fifth.
www.thejewishmuseum.org
Cindy Sherman, Untitled 2008
The Whitney Museum of American Art
945 Madison Avenue
Cindy Sherman, an American photographer and film director who lives in New York City, is known for her conceptual portraits in which she is her own subject. For more than 30 years, her themes have ranged from cowgirls to B-movie actresses to Renaissance-era royalty. In her photograph at the Whitney (a block off Fifth Avenue), titled Cindy Sherman, Untitled 2008, she plays the part of an uptown matron, overly coifed and in stiff couture. She once said, "When I look at pictures, I never see myself. They aren't self-portraits. Sometimes I disappear."
www.whitney.org
Costume of Gypsy Rose Lee
The Museum of the City of New York
1220 Fifth Avenue
Not quite in the museum's permanent collection, though she should be, legendary stripper Gypsy Rose Lee was a New Yorker for much of her life and a superstar of Minsky's Burlesque. Her deceptively demure costume is on view as part of the museum's elaborate "Notorious and Notable: 20th Century Women of Style" show, which runs through Jan. 2, 2011. Pinstriped, full-length and sedate, it looks like a perfect outfit for the proper Fifth Avenue women. But it buttons with snaps, for swift and easy removal.
www.mcny.org