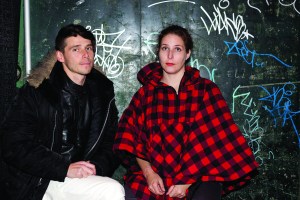 Seva Granik and Rebecca Smeyne, two promoters who work together under the name ABRACADABRA, were talking about throwing parties like veterans swapping war stories.
"The old Vice," Mr. Granik said, "not the new stuff, but like Vice in the early 2000s? I was so blown away. They never wanted it to be packed. It was all about the experience for the partygoer. Make sure there's enough bathrooms, make sure there's enough booze. You can't get into it, but it's also not crowded. Perfect attendance is something I'm concerned about most of the time. That left such an impression on me."
"Eh, we've started out things that way, and then by the end it gets crazy," Ms. Smeyne said. "You're talking about the Halloween anniversary party they had–"
"No, that was terrible! That was a shitshow. I'm talking about earlier in the decade."
"Like the party with Yeasayer and No Age on that rooftop?"
"Exactly. It was on 36th Street. There was a huge line outside. And on the rooftop it was super," a pause, "sparse."
"Throw" is improper terminology for what Mr. Granik and Ms. Smeyne do. They call it "party curating." They have a tendency to book bands that then become very famous right after the show. This is not a coincidence. It helps that they invite all the right people. In May, the pair hosted a party featuring Sleigh Bells on the eve of the release of their debut album, Treats. Maya Arulpragasam, a.k.a. M.I.A., was not only in the audience but performed onstage. Later that week Treats debuted in the top 40. A recent concert featuring the Michigan group Salem in a hundred-person room in Chinatown–"this tiny, crazy, low-ceilinged basement that had rats running around," Mr. Granik said–was reviewed twice by The New York Times.
"Seva and I have gone to parties far and wide," Ms. Smeyne said. "Stuff that's really grungy and dirty and also stuff that's really glamorous and exclusive. At this point, we've been around long enough we can identify the elements of a good party."
It was the day before a party at Great Jones and the Bowery when I sat down with the pair. They had a sponsor, Hendrick's Gin, and were given a theme: enchanted forest.
"The goal," Ms. Smeyne said, "is to find sponsors who–"
"Get it," Mr. Granik finished. "Who understand the vision. Talent, venue, crowd, brand, everything makes sense together."
For entertainment, they booked St. Vincent and Julianna Barwick, who is about to release her first album.
Mr. Granik, 35, originally from Uzbekistan, is rail thin and boyish, with floppy bangs and the sides of his head shaved. Ms. Smeyne, a photographer for Spin and The Village Voice among others, is 32, small and serious. The two met almost 10 years ago, when Ms. Smeyne replied to a Craigslist personal ad posted by Mr. Granik. They dated, broke up and now do parties together.
Mr. Granik was in charge of booking the Warm Up shows at P.S.1 last summer. He talks about his programming like it belongs as much in the museum as any other work of art or performance. Mr. Granik and Ms. Smeyne apply the same level of scrutiny to the music they choose for their parties, with a touch more elitism.
"It's not about the amount of people but the right kind of people," Ms. Smeyne said. "You can fill up an event with douchebags any old day of the week. That's not a problem."
This kind of exclusivity is crucial. 2010 was the year Arcade Fire had a No. 1 album and Phoenix sold out Madison Square Garden. In the age of mass proliferation of all things cultural, snobbery has gone missing from the enterprise of indie rock. How will future aging hipsters brag to the kids, "I was there," if not for secret shows?
"My sister's in there," Mr. Granik said.
"Your sister was at Salem?" Ms. Smeyne asked.
"No, I mean that's what everyone always says. Every time. Without fail. 'My sister's in there, I've gotta get inside.'"
They had a laugh about that.