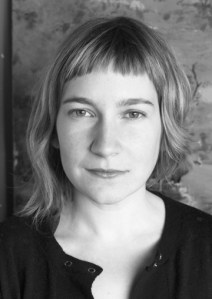 "We live in an age of some really great blow-job artists," begins the fiction piece in the latest issue of the literary journal n+1. "Every era has its art form. The nineteenth century, I know, was tops for the novel."
The narrator is a female playwright obsessed with becoming a world-renowned genius. It's still a distant goal, but, she says, one good thing about being a woman is that there aren't many examples of female geniuses yet. For all we know, she could be one! In the meantime, she says, "I just do what I can not to gag too much."
The story's author, Sheila Heti, knows a little bit about renown. Her likeness can be found on a poster promoting Canada's brightest literary talents, which circulated a few years ago. She is plainly the youngest, mugging in a cloche, two down from Margaret Atwood.
But, like her fictional counterpart, Sheila Heti is having some trouble with the rest of the world, a fact hinted at by her contributor bio in the back of n+1: "Sheila Heti's novel How Should a Person Be?, excerpted in this issue, was published in Canada in October by House of Anansi. It does not yet at have a US publisher."
And despite the n+1 appearance, Heti told The Observer on the phone from Toronto, she's still looking.
How Should A Person Be? has been turned down by at least six American publishers. That's no reason to give up hope. Times 2010 Notable Books author Sam Lipsyte's second novel Homeland was memorably rejected by more than 20 editors before being published in the UK and, eventually, the US.
Heti's predicament has raised eyebrows given that her first novel Ticknor was published in the US by the prestigious Farrar, Straus and Giroux (FSG), where it was acquired by current Paris Review editor Lorin Stein. Ticknor has found its way on to at least one college syllabus, alongside works by Alain Robbe-Grillet and Roberto Bolaño, and Heti's byline has turned up in bookish publications like McSweeney's (whose publishing arm put out her first book of stories), The Believer, Bookforum and n+1.
Moreover, Heti has sold other books since she began shopping around How Should a Person Be? in 2008. Next year Faber & Faber, an imprint of FSG, will publish a volume of essays by Heti and friend Misha Glouberman. McSweeney's will publish her children's book around the same time. Another thing that might be expected to work in her favor: She is an attractive young woman writing about sex.
"What is it about How Should A Person Be?" Heti asked, clicking audibly through her e-mail. She read snippets of rejections rapid-fire, without attributing them. One editor enjoyed reading it but didn't find the story line compelling enough. One informed her that people "don't talk like that in New York." Another wanted one character's presence amplified. Yet another didn't think he could sell a book about not being able to finish a play.
"It's not just about not being able to finish a play!"
How Should a Person Be? is a novel about a woman in her late twenties living in Toronto, trying to figure out how make art (she's working on a play commissioned by a feminist theater) and, more important, how to be an artist. The other main character is the playwright's best friend, a painter, who is more at ease in the making and less preoccupied with the being. Unable to make the play come together, the protagonist, also named Sheila, displaces her aesthetic ambitions into giving perfect haircuts and performing perfect oral sex.
"It just doesn't make sense to me because I think How Should a Person Be? is so easy," the author said.
Heti has already written her "difficult" novel. Ticknor is a rigorous first-person meditation on jealousy written from the fictional perspective of the real-life biographer of a real-life historian. According to The Library Journal it's "not really a novel at all but rather an extended prose poem… [that] will appeal mainly to writers and critics interested in literary experimentation, rather than general readers looking for a satisfying yarn."
Ticknor's high-brow success does not translate into wholesale industry confidence. Stein said that although he admires Heti's experimental bent, it is not the most direct route to bound copies. "If you're familiar with Sheila's writing, you know she's always trying new things. Some writers are really interested in deepening one channel and–if you can generalize–those writers can be easier to publish, book after book," Stein said.
It was wise, therefore, for Sam Lipsyte to follow up Homeland (after it finally found a publisher) with The Ask, another funny look at an overeducated and understimulated man in early middle age coming to terms with his mediocrity.