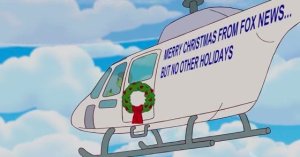 For the third time this season, The Simpsons took aim at its parent company's Fox News last night. The jabs have been relegated to over-the-top slogans on cartoon Fox News helicopters and last night's awkwardly constructed attack was: "Merry Christmas from Fox News…But No Other Holidays."
The first in the series, "Not Racist, But #1 with Racists" was actually incorporated into the plot, as the helicopter carried Fox News executives to a top-secret cabal of media elites. The next attack, and this most recent one, were throwaway gags before the opening credits.
And on that note, one has to wonder if they're courting blog traffic at this point. This time around, neither HuffPost nor Mediaite linked to the episode on Hulu, so it might be time to retire the joke.