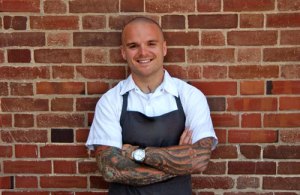 Nate Appleman turned some heads last month when he abdicated founding chef duties at Pulino's, Keith McNally's newest restaurant. As a result, the crust changed, and there was no news as to where Appleman would end up.
Now, Grub Street reports that Appleman has made a move that could shock the New York food world, if only for its absurdity: the chef said ciao to Pulino's and hola to Chipotle. If you go to the Chelsea branch of the international chain, the acclaimed and widely admired chef will wrap your burrito for you.
His place behind the glass stuffing pinto beans and barbacoa meat into tortillas, however, is just a part of Appleman's involvement with Chipotle. Founder Steve Ells has brought him on to be a high-level consultant "improving the model, and focusing on cooking techniques and getting better ingredients."
"What led me to this was being able to make a change," Appleman told Grub Street. "I was just trying to figure out, 'How can I make a difference?' It's one thing to be a really good chef and cook and it's another to impact millions of people — from the farmers, ranchers, and everyone down to the 20,000 employees. As you get older and wiser, you're looking for more fulfillment."
McNally probably can't hide his rage that his star chef got poached by, of all places, a fast food chain. Could a Mexican themed joint be Keith's next venture, just to spite Appleman? ¡Nosotros queremos!
nfreeman [at] observer.com | @nfreeman1234
Earlier: Will Work for Food: Going Whole Hog at Pulino's