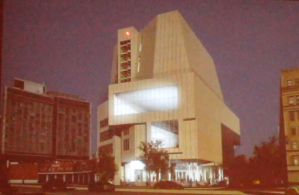 After decades of trying and failing to expand, the Whitney has taken one step closer to realizing its art-hoarding dreams by moving into a huge, new Renzo Piano-designed museum downtown. Last night, the museum announced it plans to break ground on May 24.
The museum previewed its plans for the site with the community last night, and both The Journal and Curbed were on hand. The former reveals that the museum is 70 percent of the way to raising the $680 million it needs to complete the

project. The latter had some additional details about the design and, more importantly, some blurring pics and video of a fly-through of the museum.
The biggest news is the striking, as yet unseen western facade, with its huge, Hudson-facing windows. Perhaps Piano meant them as an homage to Marcel Breur's unusual openings at the current Madison Avenue museum. We've been trying to get a copy of the rendering from the museum all day to no avail, so this grainy screen grab from a shaky video shot by the Greenwich Village Society for Historic Preservation will have to do.