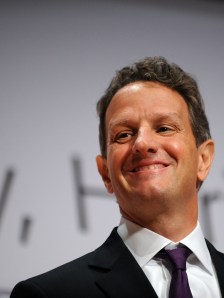 Treasury Secretary Tim Geithner is just bursting with pride over the government's bailout of the nation's large banks during (and beyond) the 2008 financial crisis. By Mr. Geithner's estimation, the intervention will only cost around 1 percent of U.S. GDP — pretty cheap as far as systemwide emergency procedures go. The New York Times reports:
Mr. Geithner told a bailout watchdog group that the Treasury expects a positive return on its remaining support for banks, automakers, credit markets and the insurance giant, American International Group, as part of the $700 billion Troubled Asset Relief Program.

"The cost of TARP is likely to be no greater than the amount spent on the program's housing initiatives," Mr. Geithner said in prepared testimony to the Congressional Oversight Panel.
Geithner wasn't all three cheers and ticker tape, though. He acknowledged that the financial system is still a huge mess, as are the jobs and housing markets. We'll supplement that assessment with a little SNL Financial study reported yesterday by Fortune: The number of financial institutions that owe dividends to the government on its TARP investment has risen to 123 in November. As cheap as the bailout might eventually prove to be, if the banks were obeying the rules and making their scheduled payments, it could be a lot cheaper right now.
See 2010's Most Jaw-Dropping Business Quotes.>>
mtaylor [at] observer.com | @mbrookstaylor