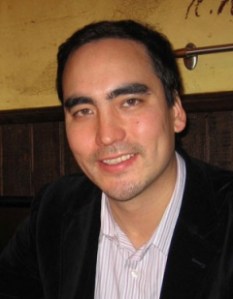 Everyone's favorite Columbia Law professor Tim Wu took a guest turn on the Paris Review advice column today.
Wu is best known for popularizing the concept of net neutrality. He recently published a history of communications and information business called The Master Switch. It's not exactly the stuff of George Plimpton, but then Wu has extracurricular activities that account for his crossover appeal, like writing about dumplings and going to parties.
The Observer memorably ran into him at a Hackers-themed soiree.
The proceeds from the party will be donated to the Electronic Frontier Foundation, an ACLU-style nonprofit dedicated to the free exchange of information. Appropriately, Tim Wu was circulating the rooms wearing cowboy boots, goggles, motorcycle pants and glowing blue fiber-optic cables wrapped around his body. A pair of admirers complimented the getup. "Thanks!" he told them. "I didn't want to just wear my Burning Man clothes."
See Wu call upon Notorious B.I.G. to help advise one Paris Review reader.
Unfortunately for Wu's tech following, whether to short Netflix or not wasn't one of the questions.
Check out the Top 10 Tech Breakthroughs We're Still Waiting For.>>
kstoeffel [at] observer.com | @kstoeffel