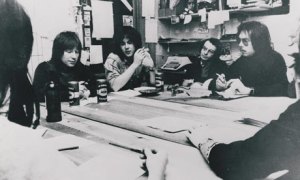 Time Out London founder Tony Elliott has sold a 50 percent stake to venture capitalists Oakley Capital. The sale values the company at over $31.5 million and will clear the company's debt. The move follows Elliott's reported injection of more than $4 million of his own money into the company earlier this year to fend off circling bankers. It is the first time Elliott has ceded any control of the listing mag since he founded it in 1968 with some birthday quid and a DJ friend.
"Don't write that bullshit about how it was some kind of collective in the '70s," advised Elliott from his cell phone on a New York sidewalk. By his account, Time Out was heavily unionized in the early days but was never the shaggy-haired co-operative journalists are fond of invoking.
Although he said he was happy to share his stake in the company, Elliott remains protective of the magazine. When asked why he chose not to partner with a media company, he said, "They're not really interested in keeping you independent from their own activities, eventually they want to consolidate you down in to what they're doing."
After months of openly seeking an investor, Elliott said, meeting Oakley Capital was a "total accident." At an industry event, he ran into an old friend who runs LastMinute.com. "The next day Oakley Capital's Peter Dubens rang him, asking 'Did you meet anyone interesting on Wednesday?' We had a Monday meeting and never looked back," Elliott recalled.
Elliott added that past attempts to woo investors "didn't gel" until he brought in a chief executive, David King, who used to run BBC Worldwide–"a proper grown-up, as it were." Elliot said King lifted the company into a reliable profitability for the last two years.
Meanwhile, Elliott confirmed there'd been recent changes at Time Out New York. The local offshoot is a legally separate company, but Elliott holds a stake in it, which he now shares with Oakley. The magazine recently named a new Editor-in-Chief, Michael Martin. Although departing editor Michael Freidson predicted an outside hire would replace him, Martin most recently the senior web editor. The American branch also recently launched Time Out Boston as an online entity and will continue to bring the web presence to other major American cities like Miami and San Francisco.
"We will do nothing in print, in terms of cities, anymore," Elliott declared, adding, "We will have Time Out in Paris and in Berlin fairly soon, probably within the first part of next year, online-only." Time Out also has franchise publications in 36 cities, from Abu Dhabi to Zagreb.
kstoeffel [at] observer.com | @kstoeffel