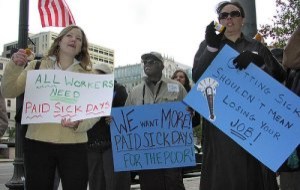 When City Council Speaker Christine Quinn decide not to bring up paid sick leave for debate, she promised that she would meet with Upper West Side council member Gale Brewer every two months to discuss the measure.
It's now two months on, and according to Brewer, the two haven't gotten together, although Brewer said that she sent a letter on the matter to the Speaker today.
In the meantime, advocates for the bill are keeping the heat on, sending an email to 8,000 people urging them to contact Quinn and press her to support the measure.
Paid Sick Leave was a major priority of progressives in New York, and Brewer and others had worked for months to accommodate business opposition to the bill. Mayor Bloomberg called the bill "disastrous," and the Partnership for New York City said it would cost the city $800 million a year.
Many assumed that Quinn's decision to lay the bill aside was an effort on her part to cozy up to big business in preparation for a mayoral run.
Letter to Speaker Quinn below:
Dear Speaker Quinn,

In October when you announced you would not support the paid sick days bill you pledged to review your position every two months. This week is the two month mark and as a New Yorker and member of MomsRising, I'm writing to urge you to reconsider your position and support the paid sick days bill.

It's no surprise that 88% of working NYC moms support paid sick days – we know all too well how fast the flu can travel through a workplace, school, or child care center. Yet over one million New Yorkers are not allowed by their employers to earn paid sick days. That means they often have to choose between going to work sick, and losing a day's pay (and possibly their jobs) if they stay home sick or with sick kids.

This is a serious issue for New York's women and families. For the first time in U. S. history, women are half of all workers and mothers are primary or co-breadwinners in nearly two-thirds of American families. Without paid sick time, women–especially low income women with children and single mothers–face impossible choices between tending to their own health or the health of their children and their economic security.

The Paid Sick Time Act was modest legislation that would have made a significant difference in the lives of New York's working families. It would have been particularly beneficial to women – as women continue to bear more family responsibility than men and are more likely to be at risk for losing pay or their jobs if they stay home sick or with sick kids.

When we're worried about our kids' health or our own health, we shouldn't also have to worry if we'll still have a job when we get better. Please reconsider your position and support the paid sick days bill.

Sincerely,