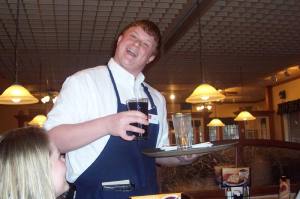 The New York Post has an incredible story about restaurants keeping tabs on their guests–with the Internet.
Upscale eateries used to keep track of guest habits, dietary restrictions and tipping habits in a notebook, but now the waiters and maitre d's take detailed notes using Open Table. They'll remember your birthday. They'll track how many times you send food back.
And the really good ones will follow you on Twitter, read your Yelp reviews and your blog posts, so they can pretend to have read your book.
"[If] Malcolm Gladwell sits down with Barry Diller," says Steve Millington, the manager at Michael's, power lunch central in Midtown, "I want to make him feel like, 'Hey, not only do we know who you are, but we really think you're an amazing author.'"
The restaurants are careful not to be creepy about it. "But while such data can offer important clues about customers' moods, desires and personalities, restaurants have to be careful not to come off as creepy or, worse yet, downright offensive," the Post writes.
One diner tweeted about a lousy meal at an airport Burger King, and was treated to some delicate lamb burgers the next day at Danny Meyer's four-star Eleven Madison Park, the blog Gourmet Live reported in October.
"We hope these are better than the one you had at the airport," the server said, winking.
Which is sort of Big Brother, but hey, free lamb burgers.
ajeffries [at] observer.com | @adrjeffries