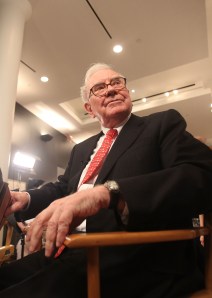 This WSJ. magazine look at Warren Buffett and his bridge partner, Sharon Osberg, is worth a read for its innuendo laden introductory paragraphs (Did Ms. Osberg get down on all fours when first meeting the billionaire Berkshire CEO? She did!). But we were also stricken by Buffett's self-assessment as a bridge player:
When we play, I do a lot of dumb things, and then I also do some extremely dumb things from time to time. But whenever I do something extremely dumb, we usually get a good result. Don't ask me why-she can explain that to you. But that's the only thing she would find extremely irritating about me, is when I make some colossal mistake and it turns out to give us a good score.
Warren Buffett is one of the greatest investors of all time. He's a skilled dealmaker. But amid the folksy Midwestern self-effacement, Buffett also acknowledges that at least in bridge, he's also just a really lucky knucklehead.
mtaylor [at] observer.com | @mbrookstaylor