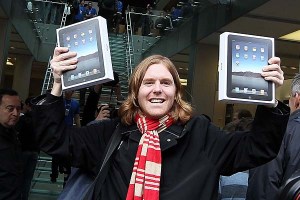 The Taipei-based blog Digitimes is reporting that after some delays the iPad 2 will ship sometime within the next 100 days, hitting stores roughly ten months after the release of the first iPad:
Foxconn Electronics' (Hon Hai Precision Industry's) plants in Shenzhen, China have recently been notified they will ship Apple's iPad 2 within the next 100 days with initial shipments to reach 400,000-600,000 units, according to sources from Taiwan-based component makers.
Apple rumors are a dime a dozen, and Apple's usual M.O. is to wait a year between product refreshes. But a bunch of iPad-esque tablets running the Android operating system have been coming out and news dropped today that 60,000 Google Chrome notebooks–always connected, ultra-lite computers that will compete with the iPad– are being commissioned.
The new iPad is rumored to be slimmer, with a front-facing camera so that it can be used for Facetime video chat.
Let the 100 days of iPad winter begin. In the meantime, here's a look at one of the competitors Steve Jobs has declared dead on arrival. Ooops, sorry Steve, turns out it actually sold 1 million units:
ajeffries [at] observer.com | @adrjeffries