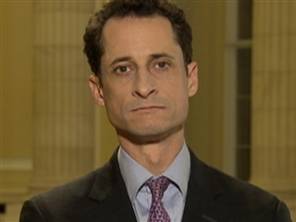 Anthony Weiner appeared on the Lawrence O'Donnell show last night, and he made a key distinction between his opposition to Barack Obama and the opposition of Senate Republicans:
"It does call up a very important distinction here though. A lot of the Tea Party guys, the Mitch McConnell and others, their singular objective is to try undermine Barack Obama. I am not trying to do that. I am trying to bolster his best intincts to get the right thing done here. I want him to be stronger…The President has to realize that with the Senate Republicans if you give them a hand of gesture, they are going to want an arm and even more flesh in debates to come. One of reason that it's important that we stand up for the things we believe in is to set the table for the next fight. And unfortunately the lesson the Republicans in the Senate have learned is that unfortunately this is a pretty easy process for them."
Weiner was also asked about the chances of repealing Don't Ask Don't Tell in the Senate, and he again knocked his Republican counterparts in the upper chamber for not playing fair.
"Look the fact of the matter is every time the Senate Republicans set another threshold for whether they'll act on something they go ahead and change their mind. We are hopeful that they are true to their word, that now that they've gotten the tax bill out of the way that the hostage has been released and the rest of the work of the Senate can go ahead."
O'Donnell tried to pin Weiner down on whether or not he will vote for the tax bill.
Take a look:
Visit msnbc.com for breaking news, world news, and news about the economy