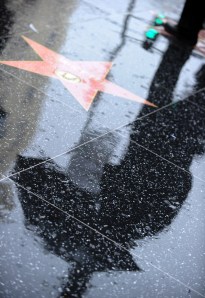 Our L.A. friends can all pull the same trump card to argue that their city beats New York: "Well, the weather is so much better." There's little we can say to that. Yes, by the time we're mounting layer upon layer around Christmas time, California is getting nice and mild. And what's more, they never seem to get any pesky rain.
Well, if you ever wanted to gloat to West Coast friends, now's the time. A massive storm is in the process of smashing the Golden State's rain records, and will leave the state soaked through Wednesday. The storm dumped up to 12 inches on parts of Southern California, with much more to come in the next few days. There is widespread flooding, but no one has been seriously injured yet.
The AP was uncharacteristically hyperbolic about this whole mess.
Rainfall records weren't just broken, they were obliterated. The weather said 3.45 inches of rain fell in Pasadena on Sunday, shattering the old mark of 1.5 inches on the same date in 1987. Since the storm began, the city had received more than 5 inches as of early Monday.
Most importantly, this storm negates once and for all the statement made by Albert Hammond in his 70s schlock-fest of a hit, "It Never Rains in Southern California." Hear it below, get mirthful about those rain-soaked L.A. suckers, and then never listen to this awful song again.
nfreeman at observer.com |@nfreeman1234
Click for Scandal Report: And Then The Model At Diddy's Party Burst Into Flames